What do we do?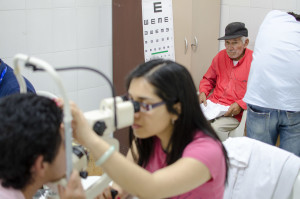 Our objective is to improve the sight and well-being of visually impoverished people throughout the world. We are all volunteers who work together as a non-profit, humanitarian organization.
We are a publicly supported charity with our material resources coming from donations and encouragement from our generous supporters. We achieve these goals through direct clinical and educational activities and partnership efforts with those who share our objective.
Our work is done without regard to race, religion, nationality, or political belief because we believe the right to sight is a basic human right.
VOSH Southeast's Vision:
Succeed with its partners in accomplishing the aims of VISION 2020, the worldwide program to eliminate avoidable blindness by 2020.
Train people in underprivileged countries in eyecare skills
Lead a volunteer revolution towards humanitarian assistance
Interested in Mission Work?
Do you have a desire serve underprivileged people and have fun doing it? Do you want to see someone's life permanently changed by some small task you have done?
Then you need to come on a VOSH Southeast mission trip! Travel to beautiful countries like Peru, Nicaragua or Africa and explore local cultures. See how people from other countries live while experiencing all of that country's natural beauty.
While there, you will assist in a VOSH Southeast eyeglass mission, and leave knowing you helped someone to see again. See our Future Missions planned.
Membership:
We would love to have your support as a member of our organization. Please consider membership for a small yearly fee of just $35, if you're a student join for just $20. See Membership for more details.
Interested but need to know more?
Please see our Frequently asked Questions page or email us at: info@voshsoutheast.org Someone from VOSH will be in touch with you.
VOSH Southeast has been organizing and expediting trips to foreign countries for over 10 years. We work hard, but play hard too. There is a place for everyone on our mission trips, even if you have disabilities or special needs. Things as simple as helping fill forms out for patients or as exciting as dispensing glasses are just a few of the areas you could help.