VOSH/Southeast Mission to Cameroon
World Hospital, Bamenda NW Cameroon
November 12-22, 2013
"The radio is talking … A Miracle is Happening in Bamenda"
VOSH/Southeast  –  Cameroon 2013
After 5 ½ days of an extraordinarily successful mission, His Royal Highness, the Fon of Bambui hosted a dinner for the tired but gratified group of 29 volunteers from North America by saying "I don't know if you know this, but the radio is talking.  They say a miracle is happening in Bamenda."  
Indeed, the VOSH/Southeast clinic, set up at the World Hospital high in the mountains overlooking Bamenda, capital of the Northwest Province, saw an amazing 4,532 patients who came from all corners of the country for eye care.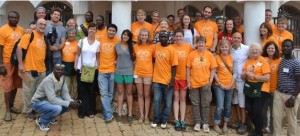 The volunteers had flown from cities in the United States and Canada, via Europe and then over the rippling endless sands of the Sahara Desert, clearly visible below. Then, descending into the fertile fields and mountains of the Republic of Cameroon, the mission began in earnest. Independent since 1960 and 1961, Cameroon joined together the land and official languages of French and English-speaking populations, now more than 20 million strong, with more than 400 tribal languages.
This was the 3rd VOSH/Southeast mission to Bamenda.  Our gracious host was Dr. Valentine Lah, the chief administrator and guiding light of Noah's Ark in Bamenda.  The World Hospital headed by Dr. Marinus Ndikum, 100 meters from where the team slept and ate at the Pastoral Center, was an ideal location, accessible by foot.  Hundreds of Cameroonians gathered each day of the clinic, some coming as early as 3 a.m., some waiting out in a torrential downpour on one or two of the mornings.  In so many ways, this intense mission was an amazing and life changing experience for the volunteers, the hosts, and, most importantly the patients from Bamenda and beyond.
The VOSH/SE Team and Clinic:  The twenty-nine volunteers included 6 OD's, four  optometry students from SUNY College of Optometry, two nurses, a nursing student, and two filmmakers. (A promotional video is being produced by VOSH/International and will include some of the footage and interviews from this mission as well as an earlier 2013 VOSH/SE mission to Paraguay.) Other volunteers included a retired city manager, university professor, school teachers, a representative from the American Refugee Committee, an amazing philanthropist who was hands on and enabling in many significant and impactful ways, a couple of college students, and a cafe owner.  Most had experienced other VOSH missions and a few were new to this experience. Local volunteers played vital roles in organizing the clinic, managing patients, translating, as well as assisting with daily activities.
The clinic was organized into multiple stations including visual acuities, refraction, disease, blood pressure and glucose testing, and dispensing of glasses.   Cataracts, glaucoma and diabetic retinopathy were some of the the most frequently encountered conditions; many cases resulting in permanent blindness.
Some of the notable statistics from this mission include:
Total clinic days 5.5
Total number of patients approximately 4,532
Total number of glasses dispensed – approximately 3,600
We are grateful for the kind support and financial contributions from the following individuals, corporations and organizations:  Allina Mission Matters; Allergan Inc.; Bausch and Lomb; Alcon; Lions Club Recycling Centers of WI and IN; Rotary Club of West St. Paul and Mendota Heights; Gemini Inc., National Vision; RestoringVision.org; Eye Styles/Nikki Griffin; VOSH/Southeast; Mel & Janet Muchnik, Mary Tjosvold of Mary T. Inc, icare USA, and of course many local volunteers.
Special acknowledgement must be made to the staff and volunteers of the Pastoral Center who took care of all of us with delicious food and provided our sleeping accommodations, to our host Dr. Valentine Lah and the volunteers of Noah's Ark who worked long hours to ensure the success of the mission, to Dr. Marinus Ndikum, head of the World Hospital for providing and preparing the clinic facilities, and to Mary Tjosvold (Mary T) for her support, for working tirelessly along with the team, for arranging school and dignitary visits, and mostly importantly for demonstrating an extraordinary dedication to humanitarian endeavors that can change and save lives.
We continue to promote and work toward a sustained model of global eye care and look forward to a return to Bamenda in 2016. Miracles happened here in the eyes of the population of Cameroon.  Our VOSH/Southeast mission was proud of the hard work accomplished here but the need continues to be great.
VOLUNTEERS
Dr. John Spencer, Optometrist (Clinic Director and Mission Co-leader)
Dr. Lisa Weber, Optometrist (Mission Co-leader)
Dr. Gregg DiSanto, Optometrist (SUNY Faculty)
Dr. Christina Kinney, Optometrist
Dr. Ekaterina Medina. Optometrist
Dr. Quy Nguyen, Optometrist
Donald Kinney (ophthalmic field service technician)
Chelsea Ashlaw, SUNY optometry student
Beena Patel, SUNY optometry student
Matthew Bovenzi, SUNY optometry student
Sarah Zuckerman, SUNY optometry student
Lauras DeMent, RN
Laurie Serie, LPN
Anna Atchison
Sue Ellen Brauer
Jodie Cullen
Jessica Conner
Jeff Cowan
Caryl Mikrut
Leesa Matthews
Janet and Mel Muchnik
Susan Smith
Mary Tjosvold
Rachael Turner
Richard and Ruth Underdahl-Peirce
Boomer Welles
Abby Works