Bamenda, Cameroon 2016
VOSH Southeast Mission to Cameroon
Lavena Spiritual Center, St. John Catholic Mission
December 10-18, 2016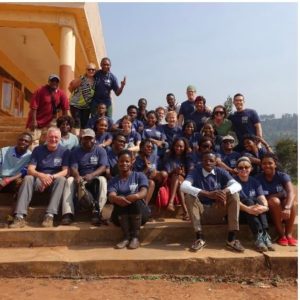 The VOSH SE mission to Bamenda, Cameroon, was truly an international effort.  The 3300 patients that were seen were served by a team of 19 that included volunteers and optometrists from 5 different countries including Cameroon, Nigeria, New Zealand, Canada and the US.
This was the 4th VOSH SE mission to Bamenda.  The team was housed at the Laverna Spiritual Center which was clean, comfortable, with onsite dining and staff.  The local nuns and staff of the center were most welcoming, gracious and accommodating.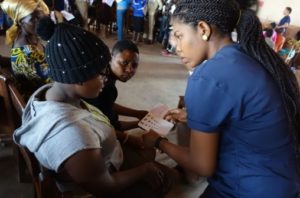 The 19 member team consisted of 12 ODs, including 7 newly graduated Nigerians, and 2 nurses.  The clinic began at 8 am daily for 5 days.  We worked well into the evening, stopping only because of darkness and exhaustion.  As usual the clinic was organized into stations including visual acuities, refractions, blood pressure and glucose screenings, disease and optical dispensing.  The majority of the patients were dilated.  In addition to refractive error the more prevalent diagnoses were dry eye, allergy and glaucoma.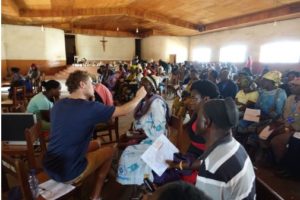 The week ended with a delicious dinner on Friday night hosted by Francis Bugbami and his family at their local hotel.  Many of the group then went dancing into the wee hours of the night at a nightclub with our local volunteers.  Saturday was spent sight-seeing and shopping and Saturday night the team was invited to enjoy a home-cooked meal.  The evening was most delightful filled with interesting and entertaining conversation.
This mission would have never been a reality if not for the help and support of the Laverna Spiritual Center, our host Dr. Valy Lah and Noah's Ark Bamenda and the continued devotion to the people of Bamenda by Mary T whose generosity to the area is beyond measure.
VOSH Southeast Team Members
 John Spencer, OD Mission co-leaders and Clinic director
Mary Tjosvold, PhD, Mission co-leader
Valentine Lah, MD Noah's Ark
Michael Bastyr
Upendranath Kamalapuri (UK)
Francis Bugbami RN
Marina Alexio PhD
Laurie Serie LPN
Dean Tjosvold PhD
Precious Ngozi Chica OD
Mascot Omogiate Ogbe OD
Hunter Hill OD
Katie Bennetts OD
Joseph Gonzales OD
Robin Hamm LaValley OD
Esosa Okundaye OD
Chimnecherem Chinomnso Onyeachu OD
Esohe Osarugue Asemota OD
Osayuki Precious Igbinigie OD
Sandra Nkiruka Nwankwo OD
Several local volunteers


Mission Data
Total Clinic Days:  5
Patients:  3300
Spectacles Dispensed:  2303
A big 'THANK YOU' and gratitude to the following contributors  for their time, product and financial support

Alcon
Allergan
Bausch + Lomb
Allina Health
Restoringvision.org
National Vision
Ocusoft
Gemini Inc.
Harold Babine VOSH SE
Max Bruss VOSH SE
Rita Collins
Mary Tjosvold
West St. Paul/Mendota Heights Rotary Club
Lisa Weber VOSH SE
Laurie Serie
Dr. Valy Lah & Noah's Ark Bamenda
Papillon Enterprises — Haiti
Wisconsin Lions Foundation Eyeglasses Recycling Center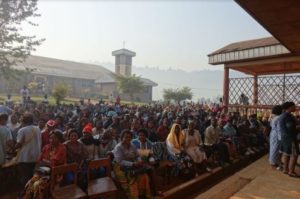 Having participated in over 15 VOSH mission myself, this one was by far the most physically demanding.  The days were long, breaks were few and the patients kept coming.  Getting to Douala, Cameroon, is an exhausting trip in itself.  Bamenda is another 7 hours by bus on a very bumpy road.  That being said, nothing is more rewarding or brings more meaning to one's life than giving of one's self and helping our fellow man.  It truly is more blessed to give than to receive.  
~Robin E. Hamm-LaValley OD