VOSH SOUTHEAST
CHIAPA DE CORZO, CHIAPAS, MEXICO
FEBRUARY 2016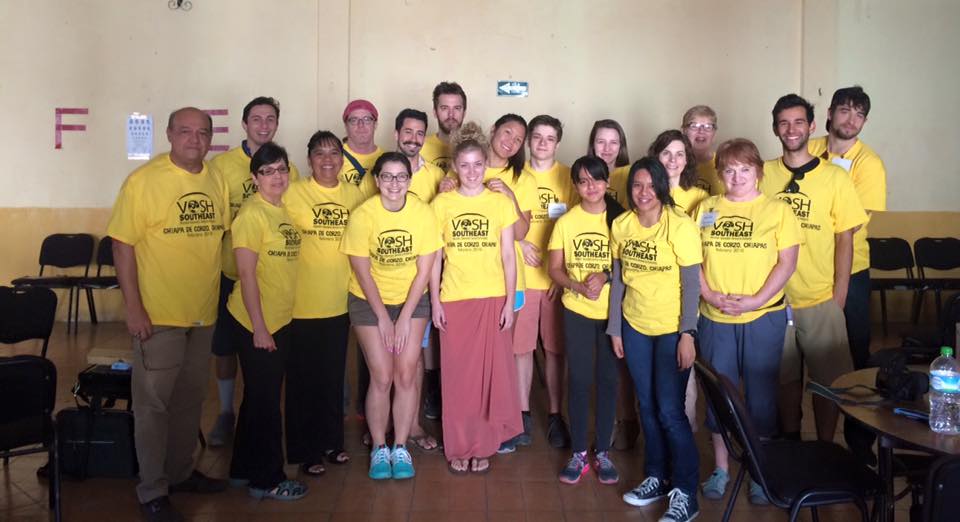 This is the fourth time VOSH-SE received a formal invitation from the  President of Lions Club Chiapas de Corzo, Mexico, to have an eye clinic from February 22 to 27, 2016. Chiapa de Corzo is a small easy-going town with a population of 37,627 people with the majority of people living below the poverty level.  The original clinic mission was going to include ocular disease, IOPs, spectacle prescribing, visual acuities, retinoscopy, auto-refraction, a dispensing of recycled eyeglasses, readers and sunglasses, blood pressure and glucose testing.  However, the goal was expanded by including the participation of different local community providers.
First, we implemented the goal to provide brand new eyeglasses with their own prescription for children and teenagers. Donations were made by different frames vendors with a nice selection of quality frames, then we contacted a local lens lab "Distribuidora INDIGOLD"  located 20 minutes away from Chiapas de Corzo.  Since this was uncharted territory, we did not know what to expect when we invited them to help us during our clinic. The response was immediate to support our vision and they offer a great discount for lenses with a two days turnaround. This was a wonderful experience to dispense a proper prescription for children/teenagers with the frames chosen by them and for those patients who had a strong prescription.
The next goal that we wanted to achieve was to invite local optometrists to help us during our clinic and establish a relationship with the patients that need continuing eye care. We invited Dr. Jorge Aranda Tello "Opticas  JARMAR " and his colleagues and their response was overwhelming; they wanted to be part of any eye service providing care to their community .
Lastly to complete the circle of care, we needed contact with an eye surgeon who was willing to take on the patients who need surgical intervention. There is a local clinic "CLINICA DR. GEORGES BIRENBAUM, A. C.", where an American eye surgeon practices and performs surgeries, donating his time and knowledge four times a year. Rosa Sanchez is the person who represents this clinics and she was very instrumental in closing the gap for patients needed surgery.
Also we have a great support for the local RED CROSS taking blood pressure and glucose testing during our 5 days of clinic.
As you can see by the numbers provided below, we were pleasantly surprised to report that with generous donations and low cost lab services provided by locals the financial outcome was comparable to previous missions.
During our 5 days of clinic we were able to provided eye care, eyeglasses and referrals for continuing surgical care based on following data:
TOTAL OF PATIENTS UNDER 18 YEARS OLD = 192
TOTAL EYEGLASSES ORDERED FOR CHILDREN AND TEENAGERS = 181
TOTAL OF PATIENTS OVER 18 YEARS OLD= 1307
TOTAL OF EYEGLASSES ORDERED FOR PATIENTS WITH HIGH PRESCRIPTION= 74
TOTAL OF PATIENTS WHO PAID A SMALL AMOUNT FOR EYEGLASSES (SV/BIFOCAL) = 428
TOTAL OF FEMALES=  941
TOTAL OF MALES= 558
TOTAL OF PATIENTS SEEN BASED ON 4.5 DAYS OF CLINIC = 1499
NUMBER OF PLUS POWER OF GLASSES PRESCRIBED = 965
NUMBER OF MINUS POWER OF GLASSES PRESCRIBED = 512
TOTAL NUMBER OF GLASSES = 1569
NO RX TOTAL = 135
PATIENTS WITH DIABETES = 222
PATIENTS WITH GLAUCOMA = 0
CATARACT REFERRALS = 69
Our team consisted of a variety of volunteers  around the nation  as follows:  3 optometrists , 1 ophthalmic technician , 1 optician, 2 optometry students, 3 eyewear designers, 1 architect , 1 retired school teacher, 1 health care interpreter, 2 high school students and 1 media specialist.
It was a wonderful group of volunteers who bonded in a special way that showed respect and caring for one another and enabled us to be in harmony while working 10 hours a day under intense circumstances.
Our journey had many memorable stories but on our last evening in Chiapas when we were walking around the town, people who attended the clinic were embracing us showing gratitude for the services given to them. The most touching moment was when a mom approached us with her young son wearing his first pair of eyeglasses, which he desperately needed. The mom described how her son is discovering his new world with his eyeglasses, he kept repeating that his world was blurry all the time but  now it is clear and full of colors
John Spencer  – OD Leader
Lisa Weber –  OD
Laura Espinosa –  4th year OD student
Alexander Paradis – OD Student MKU
Deborah Duan – OD Student MKU
Serge Heitzmann Eyeglasses Designer
Jason Gittler – Software engineer
Jonathan Kassan – Software engineer
SueEllen Brauer – Retired School teacher
Chloe Peterson-Nafziger – Senior High School student/Spanish Interpreter
Julian Spencer – Senior High School student/Spanish Interpreter
Pilar Lozano – Optician – Co-leader
Denise Kimmer – Ophthalmic technician
Michael Noonan – Designer
Sean Tumilson – Health care Spanish interpreter
Jessica Conner – Media Specialist
Thank you to:
VOSH Southeast
Alcon
Allina Health
Heart to Heart International
Club de Leones, Chiapa de Corzo
VOSH International
National Vision
West St. Paul – Mendota Heights Rotary Club
Ocusoft