VOSH Texas Mission needs help,
Help for VOSH Texas Mission to Guerrero, Chihuahua, Mexico
I need your help.  We have two really fast cataract surgeons and four other surgeons.  We will have lots of Pre/post opt patients along with our normal refractions.  The clinic is the week of March 5, 2018 – March 11, 2018.  Please help with this clinic.  If you cannot come please help me with other Optometrist that could help.
It is way different from most missions in that we have a fully equipped facility for our ODs to work in, wonderful food and accommodations, etc. If you have not visited our website, I encourage you to do so.
Google VOSH Texas or guerreroclinic.org   
Tom
---
VOSH Southeast Annual Report
Click below to view and print pdf
VOSH Southeast Annual Report for 2016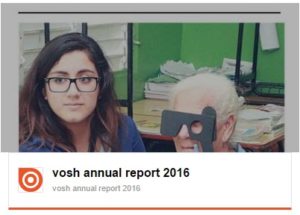 ---
 PICHARI PERU MISSION TRIP
HI TEAM MATES,
I HAVE BEEN ASKED BY THE PERU GOVERNMENT TO DO ANOTHER EYE SURGERY MISSION TO PERU SOME TIME IN OCTOBER 2017.  WOULD YOU LIKE TO DO IT, THERE IS MUCH NEED IN THIS REMOTE  AREA FOR EYE SURGERY WE WERE THERE IN SATAPO  LAST WEEK AND DID 122 SURGERYS AND GAVE OUT OVER 1000 GLASSES. WITH DR EANES AND DR BOWDEN.
WE FLY FROM LIMA TO SATAPO IN A NAVY AIR PLAN THEN TO PICHARI IN A ARMY HELICOPTER.
GLENN LASHLEY C.B.N.
Medical Mission Coordinator
1835 Mercers Hammock Court
De Land ,Florida 32720
---
 B.A.S.I.C. helps 14 people receive cataract surgery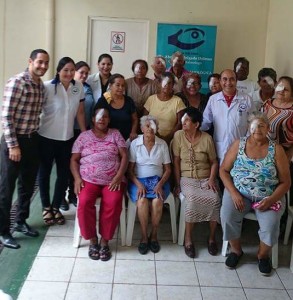 B.A.S.I.C. helps 14 people receive cataract surgery
With a grant from VOSH Southeast, B.A.S.I.C. Nicaragua (Brothers and Sisters in Christ Nicaragua) was able to help 14 people receive cataract surgery. B.A.S.I.C. chose the worst cases so all 14 people can now see where they were blind previously. Many thanks to Foniprece and Dr. Delgado for performing the surgeries. They still have 40 people on a waiting list while we try to source more funding.
---
Student Eyeglass Program
Today Susan Stees and I met with Dr. Underwood and the staff and teachers of the Opticianry Program at Hillsborough Community College in Tampa. They are going to edge and mount 100 pairs of negative spheres lens in frames provided by Vosh Southeast. It may take several semesters to complete the 100 pairs, but a number of student expressed interest in attending a mission now or in the future. I suggested they join our chapter and maybe we could have them join us on a mission or maybe establish one of their own. Several students went on a mission this past year. They are trained in refraction and contact lens work as well as dispensing and edging and mounting.
We offered several pieces of equipment for parts to repair equipment and supplies. Several students live in this area and would get credit for assisting with our work .
Susan will be following up with the school as she is a graduate there. Greg Kane OD, our Vice President is also a graduate. 
This could be a good thing for the school program and Vosh Southeast.
Max R. Bruss
---
A Thankyou letter from Sandra Wang Harris
Greetings,
You may remember, we helped Sandra when her husband was stationed in Trinidad. She worked at setting up the school of optometry that has just graduated their second class.
As she travels the world, we try to help her by supplying her with drugs, drops, frames and sets of optical equipment to diagnose and treat pediatric visual problems.
Thank you for the support you give me when I find projects that need help.
Max
---
Dear Max,
I received the drops and drugs at my mother's house.  Thank you so very much.  Here is an update on my work:
I relocated to The Gambia, West Africa in August 2014.  Situated on the Atlantic Ocean with fabulous weather, the country is highly dependent on tourism as its major source of revenue.  This year (and probably next) has been extremely hard on the country as the ebola epidemic has scared the normal tourists away.  Onesight with Luxottica started working in the country in conjunction with the Ministry of Health last year.  After Ebola scared many westerners away, Onesight also sent their foreign American team back to the USA.   I didn't leave because I didn't assess the situation on the ground to be a high risk for my family.  As of today, Ebola is only in 3 countries and not in The Gambia.
Onesight has been instrumental in bringing affordable eyeglasses and lenses to Banjul, the capital of The Gambia, and now they are opening up "vision centers" throughout the country.  They have a productive implementation plan and the program has been great to work with.  It is also self-sustainable which is a fresh outlook for me after working in East Timor.  A full pair of single vision glasses with lenses cut to prescription is about $5.00 US!  That is a NEW FRAME and good Essilor lenses!  You can't beat that.  I was able to help out during their grand opening of one of their vision centers when Ebola kept away the volunteer doctors from other countries.  As important as onesight's contribution is to the country, the National Eye Health Programme (NEHP) still has a backlog of cataracts and a tremendous amount of glaucoma and diabetic eye disease.  There is an optometric technician training program in Banjul with the NEHP.  I am helping out where needed clinically as well as teaching the young optometric technician interns.
Right now, the NEHP director would like to see Low Vision being practiced.  I could use old devices, CCTV's, and diagnostic tests, such as log mar charts (might be hard to find) and magnifiers.  (I still have some of the things you gave me a few years back).  I'll give you a more specific list in the next few weeks after I get back as the director wants me to go to a blind school as soon as I get back into town.  So, will let you know.
The other problem they have is that there is a shortage of eye drops diagnostic as well as treatment drops such as glaucoma.  Drops and consumable are bought by the MOH and unfortunately like all socialized medicine, eye care is the lowest priority (malaria and maternal health are much higher on priority).  So, the NEHP gets very little money to buy medications and consumables.
Thank you Max and thank you VOSH SE for being such an important part of my work wherever I go in the world.
Sincerely,
Sandra Wang-Harris
---
VOSH in Chiapas
VOSH-Southeast was recently featured on the Sintesis Television in July 2014 during a mission to Chiapa de Corzo, Mexico. This news segment promoted the clinic and pointed out the partnership between the Lions Club – Chiapa de Corzo and VOSH Southeast in order to help the most in need. The video was also helpful in making necessary connections with one of the largest lens labs in Mexico. The VOSH team supplied the frames and glasses prescriptions and the lab produced the glasses at very low prices to make the glasses more affordable. This lab is now willing to work with VOSH anytime and anywhere throughout Mexico. Also the president of Tierra Verde of Chiapa de Corzo wants to support our mission proving more resources because of this exposure.